Photoshop Course Masterclass – 2023
Any Windows, Mac, or Mobile Device
Transform the ordinary into extraordinary!
Have you tried to bring your vision to life, but it just didn't match your imagination?
What if we told you that you can create composite images in order to bring your imagination to life, and then make them fabulous! You can learn all about this and much more with our fantastic Photoshop Masterclass Course, which will cover all of the essential elements that you need to know in just a short time.
You can learn all you need to know in less than one working day!
If you can imagine it, then nothing will stop you from creating it! You, too, can make exceptional artwork.
You know the feeling when you take a picture, yet are disappointed that it didn't turn out as you'd hoped. Good news! We have a solution for you. In our Photoshop Masterclass Course, we'll show you how to remove imperfections and make your photos look their absolute best.
We will teach you all you need to know in order to master Photoshop in these easy-to-follow tutorials
Photoshop is huge. It contains many tools and features that are not easy to figure out on your own. Therefore, we'll properly guide you through all the tools that will help you tackle some of the most common photo problems. Afterward, you'll learn more complex techniques to suit all of your needs.
Whether you're entirely new to Adobe Photoshop or you've played around with it, but you want to get more comfortable with this powerful program, this course will be perfect for you.
You will learn
how to make improvements
from straightening a horizon and changing composition to improving exposure by adding and changing color. You will also learn how to select and mask, along with many more great features. Other important elements, such as adding logos and text will also be taught. As we've mentioned earlier, you do not need to have any previous knowledge of
Photoshop, editing, or design
. We will start right at the beginning and work our way through this amazing software, step by step. At the end of this
training
, you will be able to use all of the essential
Photoshop tools and features
; thus, mastering this
fabulous software
. You'll progress even faster with our exercise files (available for download) where you can follow along with the videos.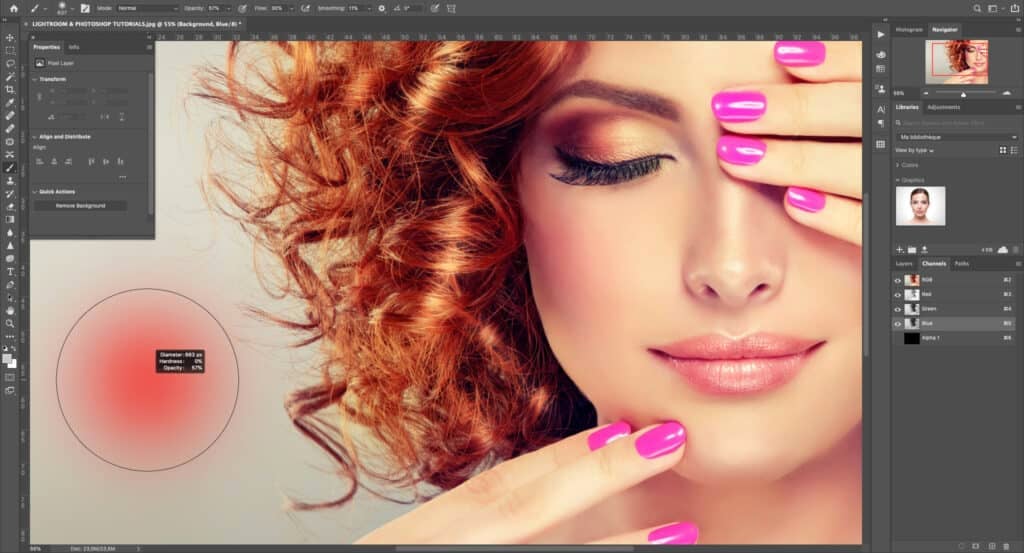 Retouching is used everywhere, and from corporate headshots to your favourite magazine cover,
editing is an essential skill
that can basically help you in any niche of
photography and design
. Learn how to remove imperfections, clean up untidy hair, add more color, play with saturation, and sharpen like a pro. Whether it's simple retouching or transforming your entire image, with
Photoshop
, you have all the professional editing tools that you need to reveal the best in your images. Furthermore, you'll be comfortable navigating in
Photoshop
, creating new projects, designing anything you imagine, and saving it for any purpose. In this complete
Photoshop Masterclass course
, you'll not only learn all of the editing
tools available
in
Adobe Photoshop,
but also how to design great graphics for your business, social media, or for fun. Family invitations, calendars, and anything you can think of is now in your reach.
We are here for you! We have created our online courses to help you reach your dreams – it's always the relationship that matters to us more than the transaction.
The Complete Adobe Photoshop Training Course is specially designed with the best possible support. However, if you ever get stuck or have any questions, our team is here to help you 24/7. Just get in touch and our quick support will ensure that you're never disappointed.
One of the best things about our courses is that you can log in to your account from anywhere, whenever you want, and access your training easily!
Once you join the Photoshop course, you'll have access for life; therefore, you can go back to any lesson you want as many times as you need to. You have the freedom to learn at your own pace, and most importantly, when you want to.
If for any reason you're unsatisfied with our Photoshop training and you would like a full refund, please submit a request within 30 days of your purchase. We will refund your purchase, no questions asked! 
Your original payment method will be credited with the full order amount.
With our 100% money back guarantee, there is certainly nothing stopping you from joining our Photoshop Masterclass Course now!
We've made it extremely easy for you
to learn
Photoshop by taking you through all of the tools until you're comfortable and confident with them. In conclusion, our Photoshop course will allow you to master the features used by top
photographers
and
designers
. Learn how to edit a photo, make photomontages, and
apply effects by using layers and filters
. You will find the full list of different tutorials that make up the training below.
Follow the Photoshop Masterclass Course and make your photos amazing!
If this article has helped you, then Like and Share it with your friends!
Course Curriculum
Introduction
01 – Welcome to Photoshop Beginner to Pro

00:01:12

01-1 – Download Photoshop

00:00:00

02 – Exercise files

00:00:52

Getting Started in Photoshop
03 – How to open a photo in Photoshop

00:06:11

04 – How to open a photo in Photoshop using Lightroom

00:04:28

Workspaces
05 – Workspace in Photoshop

00:08:10

06 – Working with multiple photos

00:03:21

07 – How to zoom in and out in Photoshop

00:12:42

08 – Different screen modes

00:03:33

09 – Rotating an image

00:02:27

Image and Size
10 – Pixels

00:01:25

11 – Image Size

00:07:25

12 – Preserve Details 2.0

00:05:04

13 – DPI

00:05:05

History and export
14 – History

00:07:33

15 – How to save a photo in Photoshop

00:09:21

16 – How to save a file in JPG format using Photoshop

00:07:02

Crop and Straighten
17 – How to crop an image using Photoshop

00:08:02

18 – How to straighten a crooked photo

00:03:10

19 – Content-Aware Option

00:02:28

20 – How to straighten a perspective using Photoshop

00:01:27

Using Layers
21 – Working with layers

00:09:15

22 – How to use the grid & guide in Photoshop

00:06:08

23 – How to Auto-align Layers

00:11:16

24 – Creating groups of layers

00:06:28

25 – Merging Layers

00:03:33

26 – How to choose a color

00:03:03

Adjusting Color
27 – Colour Libraries

00:01:16

28 – Eyedropper Tool

00:02:18

29 – Colour Shortcuts

00:01:31

The Brush Tool
30 – Brush Shortcuts & Selection

00:07:23

31 – How to use the brush tool

00:07:22

Fusion Mask
32 – Lens Flares and Layer Masks

00:09:10

33 – Opacity & Gradient

00:04:31

Selection Tools
35 Rectangular Marquee Tool

00:04:31

36 – Elliptical Marquee Tool

00:02:31

37 – The Lasso Tool

00:02:06

38 – The Polygonal Lasso Tool

00:04:19

39 – Quick Selection Tool

00:09:14

40 – Difficult Clipping

00:03:30

41 – Select Subject

00:05:14

42 – Colour Range

00:05:02

Delete / Modify / Move
43 – Removing Objects from a photo

00:16:29

44 – Indestructible Editing

00:03:32

45 – Content Aware Tool

00:04:10

Smart Object
46 – Using Smart Objects

00:06:18

Transformation
47 – Different transform techniques

00:11:36

48 – Lens & Perspective Correction

00:10:01

The Important Settings
49 – Adjustment Layer with Black & White

00:09:08

50 – Histograms

00:10:15

51 – Levels

00:06:14

52 – Feathering

00:02:22

53 – Curves

00:04:31

54 – Hue Vibrance Saturation

00:08:13

Filter and Sharpness
55 – Filters

00:06:01

56 – How to improve the sharpness of a picture

00:08:16

57 – Editing with camera raw as a filter

00:07:34

Conclusion
58 – Congratulations

00:01:17

59 – Next step

00:00:00
Course Reviews
5 stars

34

4 stars

4

3 stars

0

2 stars

0

1 stars

0